Arnaundville Police Department
Prêt à protéger, fier de servir
Ready to protect. Proud to Serve
November 17, 2021
As we enter the holiday season – the season of "giving", I reflect on the last year as your Chief. It has been a challenging year, both professionally and personally, but because I am a man of faith, I have to believe that my Maker is ultimately in control.
As a Police Chief managing a small rural department, my biggest challenge has been recruiting and retaining quality personnel. Arnaudville suffers the same fate and the same struggles as almost every other law enforcement agency in the country. We must recognize those elements that are impacting our efforts, and fight against some of the negative attitudes and perceptions we get from some of our citizens, from municipal officials, and from within our own ranks. We must acknowledge that there exists leadership that does not have the best interest of our citizens in mind; leadership that often turns its back on the brave and committed men and women who carry the badge and wear the uniform. There are invisible forces behind the scenes who would change the fundamental direction and values we have fought for for generations.
My over two decades serving in law enforcement has obviously been met with moments of challenge – Hurricane Katrina, big city crime, facing the tragedy and sorrow of fallen officers, meeting families of victims, and more – all to be anticipated as a police officer. What I never anticipated was a national movement that vilifies, disregards, dismisses and destroys the lives and livelihoods of decent, honest and hard-working law enforcement officers. A top-to-bottom movement that ultimately results in more crime, more disorder, and more chaos in communities and trauma to innocent citizens. As in every such movement, we always see a course correction, and I am optimistic that we will see the tide turn.
As I reflect on a personal level, I count the many family and friends who have been touched by a global pandemic that left us nowhere to hide and no immunity from devastating loss. My own brother succumbed to Covid-19, as did many of his fellow nursing home residents. Otherwise healthy family members, young and old did not escape the clutches of Covid. Attempting to understand the rationale for restrictions, mandates, and closures left more confusion, division and distrust. Covid took lives, but also took much more from us – our compassion, tolerance, empathy and trust. We are left as cynical, suspicious and mistrustful citizens choosing sides, and isolating and ostracizing those who dare to contradict or question.
But, as we move through all of this, we are left with our faith. Faith that tells us that while we are all on borrowed time, the best is still ahead of us. Life is constantly renewing, evolving and transforming into something better. We only need to wait, because the course will be corrected. The pendulum will swing the other way.
For those who can never see beyond their own selfishness or greed, or who fail to believe life is about giving and not taking, I have pity for them. The misery and hurt they inflict on others will come back to rest on their own souls. For the majority of us, the holiday season - the season of "giving" is but a time when our challenges, our pain and our struggles are overshadowed by the good we can do for others.
Happy Holidays, Arnaudville!
| | |
| --- | --- |
| Posted on March 19, 2014 at 11:35 PM | |
3/19/14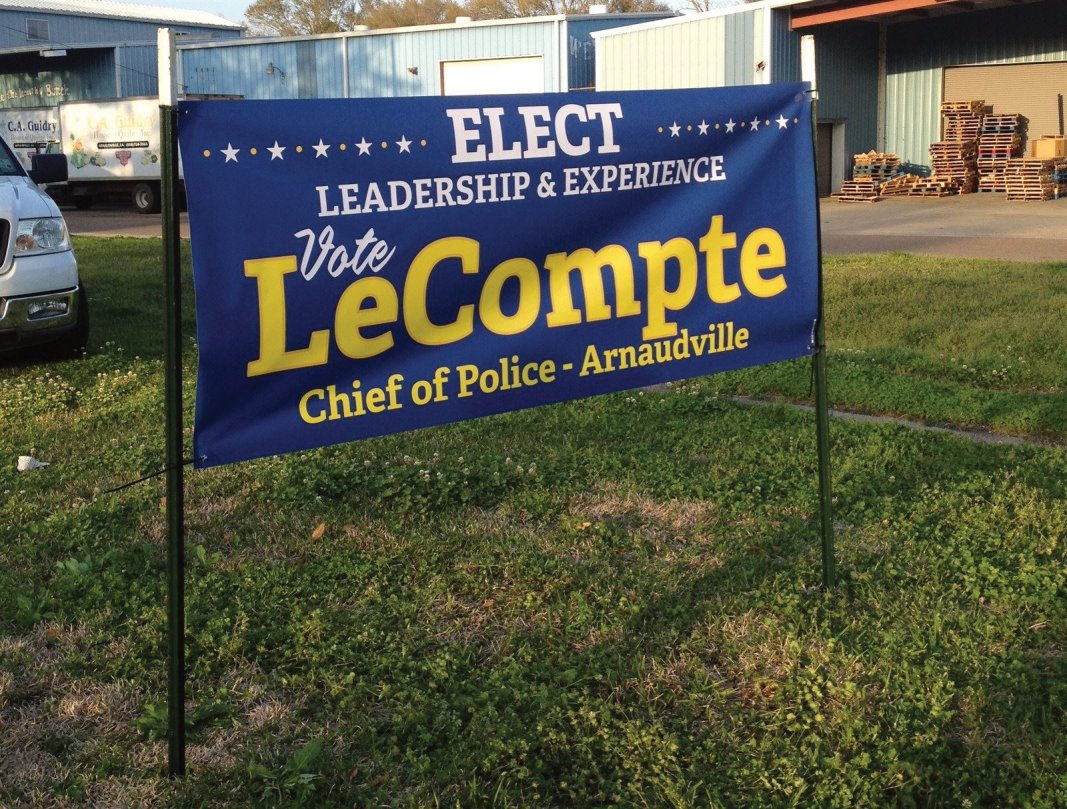 My big signs came in today, and the first one is up, thanks to Ginger and James.  I had to go to NO to meet the Realtor to show our house tomorrow.
Last night I attended the Arnaudville Town Council meeting.  As usual, it was informative and interesting.  As in most towns, there is often an adversarial relationship between some of the folks and their elected officials.  Then, there are the dynamics between the aldermen, the Mayor, and the town employees.  Then, you gotta make room for the friction between and among the audience members themselves.   Put all that together, and add an election year, and it makes for a pretty spicy gumbo!  Gotta love Louisiana, and especially small towns!  But, I think there is no better place to live and love.
We are working hard to get to the finish line, and I'm feeling exhilarated on one hand, and nervous on the other.  I have to keep saying that the process is worth all the anxiety -- re-connecting with relatives and friends, and making new friends.  At the end, we will have a celebration with supporters -- a victory party if I win, a pity party if I lose!  But, either way, an honor for the experience, and gratitude for the believers.
Categories: The candidate's journal
/