Arnaudville Police Department



Prêt à protéger, fier de servir
Ready to protect. Proud to Serve
November 17, 2021
As we enter the holiday season – the season of "giving", I reflect on the last year as your Chief. It has been a challenging year, both professionally and personally, but because I am a man of faith, I have to believe that my Maker is ultimately in control.
As a Police Chief managing a small rural department, my biggest challenge has been recruiting and retaining quality personnel. Arnaudville suffers the same fate and the same struggles as almost every other law enforcement agency in the country. We must recognize those elements that are impacting our efforts, and fight against some of the negative attitudes and perceptions we get from some of our citizens, from municipal officials, and from within our own ranks. We must acknowledge that there exists leadership that does not have the best interest of our citizens in mind; leadership that often turns its back on the brave and committed men and women who carry the badge and wear the uniform. There are invisible forces behind the scenes who would change the fundamental direction and values we have fought for for generations.
My over two decades serving in law enforcement has obviously been met with moments of challenge – Hurricane Katrina, big city crime, facing the tragedy and sorrow of fallen officers, meeting families of victims, and more – all to be anticipated as a police officer. What I never anticipated was a national movement that vilifies, disregards, dismisses and destroys the lives and livelihoods of decent, honest and hard-working law enforcement officers. A top-to-bottom movement that ultimately results in more crime, more disorder, and more chaos in communities and trauma to innocent citizens. As in every such movement, we always see a course correction, and I am optimistic that we will see the tide turn.
As I reflect on a personal level, I count the many family and friends who have been touched by a global pandemic that left us nowhere to hide and no immunity from devastating loss. My own brother succumbed to Covid-19, as did many of his fellow nursing home residents. Otherwise healthy family members, young and old did not escape the clutches of Covid. Attempting to understand the rationale for restrictions, mandates, and closures left more confusion, division and distrust. Covid took lives, but also took much more from us – our compassion, tolerance, empathy and trust. We are left as cynical, suspicious and mistrustful citizens choosing sides, and isolating and ostracizing those who dare to contradict or question.
But, as we move through all of this, we are left with our faith. Faith that tells us that while we are all on borrowed time, the best is still ahead of us. Life is constantly renewing, evolving and transforming into something better. We only need to wait, because the course will be corrected. The pendulum will swing the other way.
For those who can never see beyond their own selfishness or greed, or who fail to believe life is about giving and not taking, I have pity for them. The misery and hurt they inflict on others will come back to rest on their own souls. For the majority of us, the holiday season - the season of "giving" is but a time when our challenges, our pain and our struggles are overshadowed by the good we can do for others.
Happy Holidays, Arnaudville!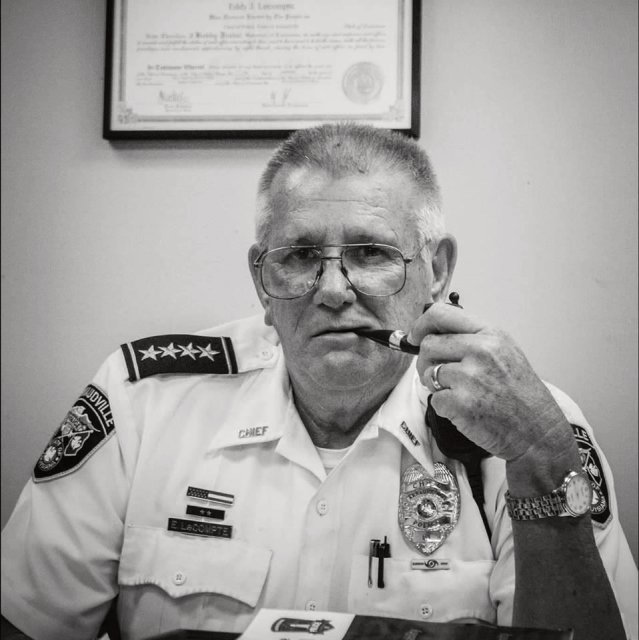 As I have been out in the community visiting with citizens and sharing my positions, I have also enjoyed listening to them share their's.  On several occasions, the misinformation, possibly the misunderstandings that they reveal is puzzling.  I have been told that a mayoral candidate is stating or implying that once in office, the Arnaudville Police Department would be an item to consider for major cuts or disbanding altogether.  I would like to assume that any such pledge is being misunderstood or even completely inaccurate.  However, I find it necessary to respond to such a notion.
Small towns remain the choice among nearly 45 million people for many reasons – jobs, family ties, easier lifestyle, raising children or wanting to live beyond the urban areas.
The police officers who work in these areas are often the victims of stereotypes found in t.v. shows like Andy Griffith portrayed as quaint characters less skilled or trained than their counterparts found in urban crime centers, and thus expendable or non-essential.
When it's election time, candidates who want to assert their fiscal conservatism or want to portray themselves as bold agents of change, talk of eliminating employees, abolishing or consolidating departments, or slashing services.  Often they offer solutions like out-sourcing, contracting or merging with regional or state agencies. In the case of a police department, such moves inevitably lead to more crime, inefficiency, less community loyalty, and significantly longer response time to calls for service. In our case, I have been informed by both St. Martin and St. Landry Sheriff's Departments that this would likely be the case – not necessarily due their lack of interest, but due to lack of patrol officers, the remoteness of our community, and scheduling issues.  If you don't believe me, or the research I've provided, just ask New Iberia what happened when the police department was abolished.
Despite the claim that we can save money by eliminating departments, or in some cases, eliminating officers, according to the Bureau of Justice Statistics, small rural community policing will remain an important part of our national fabric for the near future.
We do know that when small communities have looked to decrease their law enforcement expenditures, at the same time, criminals have continued to act out, and increase their activities.  Where local law enforcement is not well established and visible, a vacuum for crime is created. If we think we have a drug and theft problem now. Abolish the police department, and wait.
As a former Jefferson Parish sheriff deputy and patrol officer, I would respond to more calls and write more reports in one night than Arnaudville does in a month.  But, proportionate to population, the FBI data tells us that communities of 25,000 or less have seen a whopping 18.3% increase in crime.  According to Ohio State University study, "rural areas today have less crime than their urban counterparts, but they also have more crime than they ever did before, and their crime problems are serious."
What's even more alarming, and something that municipal leaders advocating for a decrease in personnel or disbanding a department fail to appreciate, is that officer deaths in communities of 10,000 or less are high, second only to those in large urban centers.  Over a ten year period, the rate of officers killed in rural areas was greater than that for large urban areas. So what does it say when the town leadership doesn't support or appreciate those who literally step in harm's way every day, sometimes with less pay than the average receptionist or file clerk? 
I am one of many small town police chiefs who have come from a large metro area that recognize the distinct and unexpected challenges we have in Arnaudville.  While I have the support of St. Landry Parish and St. Martin Parish for technical, investigative, narcotic, and homicide related issues, I continually remind our town leaders of these facts.
·         lack of immediately available backup officers
·         limited peer interaction (officers are often on their own)
·         lower pay than our neighboring police agencies 
·         unaffordable health care and lack of adequate benefits
·         lack of safe and adequate vehicles and standard police equipment
If a mayoral or council candidate makes any pledge or promise related to the Arnaudville Police Department, it should be a pledge to strengthen the department through competitive pay and benefits, through advocating for proper tools, equipment, and training.  Any talk or consideration to eliminate the Arnaudville Police Department or decrease the number of officers, I view as an unfortunate result of political posturing on the backs of our citizens' safety and protection.  As I have said before, playing politics with your safety and protection will not end well.  Ask New Iberia.
Vote for Arnaudville's future.  Vote for your protection.
For those who are of the notion that the police chief should conform to their idea of a job description, or to history and tradition, I remind them that the position of Police Chief is an elected and administrative one, not to confuse it with a rank and file patrol officer.  The position does not even require anyone with police experience at all, although most citizens would agree it is preferable! That's why Arnaudville has had a history of chiefs and officers who were good men, but who were both literally and functionally illiterate. 
To further enlighten some regarding my patrol duties, implying that I should be on a scheduled "shift", I say that in reality, I am on every shift, 24/7/365.  While I do note that patrolling is NOT the primary function of a Police Chief, I am called by dispatchers and officers at any hour on any day, regardless of my location to assist on a consultative basis or physically back them up on a call.  I am not complaining, but I receive citizens at my back door, and on my cell phone any time, day or night - weekends, holidays, etc., to hear their issues.  
My responsibility is to lead, to develop and maintain policies and procedures, to enforce the latest laws from the state and ordinances from the town.  I require all employees to have a working knowledge of the criminal and civil laws of the State of Louisiana, and to know the difference between civil and criminal laws.  They need to know the Ordinances of the Town of Arnaudville, and the Arnaudville Police Department Operational Policies and Codes of Conduct. 
I acknowledge that not everyone is pleased with me. In five years, I have made mistakes.  I have ruffled feathers.  I disrupted the status quo.  But, one thing you can rely on is that I have continued to move toward progress, accepting the constructive criticism, taking it to heart, but not letting it sidetrack progress. I will continue to lead the department in a way that prioritizes the needs and safety of our officers, so that they can meet the needs of the people they serve. 
I will be presenting a budget that includes raises for my employees. I will defend it vigorously, and invite any fair-minded citizen to support my recommendations, and any council member to fully consider the ramifications for our community when staffing and salary structure decisions are based entirely on finances and old traditions and claims, and not on what is best for the citizens and those who serve them in a 21 century environment.  Show me a town's budget, and I'll tell you what its priorities are.  
When I was elected, I presumed that I would walk into a department fully functional.  Not so.  There appeared to be no current standard operating procedures and no working relationships with either St. Landry or St. Martin Parish Sheriff Departments. The town-issued phone I was given was wiped clean, as well as the office computer.  The so-called evidence room was not secure and records were incomplete or missing.  Case files were missing, misplaced or grossly insufficient.  Prosecution rates were practically non-existent due to poorly written police reports that would not hold up in court.  Aside from the state of the department, much of the equipment was inadequate for proper and professional application.  Uniform standards were lax; there was no requirement for wearing vests, and weapons were inconsistent.  The department's vehicles and radios were not properly aligned with law enforcement standards that focus on safety for the officer and functionality and utility for the work required.
Despite these deficiencies, the men and women of our department showed enthusiasm and an overall yearning for a higher standard of professionalism.  Most were eager to take on a "rebuilding" of the APD alongside me, and quite willing to conform to the new standards.  We moved together in the direction of progress, with little to no promises of reward. 
I get some good-natured teasing for driving that "toy" car.  After all, I am the Police Chief.  But, I drive that car because the best equipped units should go to the men and women who are more likely to confront danger on any given day or hour.  While building up the physical aspects of our department, I was also creating and promoting a new image, instilling pride in both the men and women of the Arnaudville Police Department and the citizens of our town.
I will be presenting a budget that includes raises for my employees. I will defend it vigorously, and invite any fair-minded citizen to support my recommendations, and any council member to fully consider the ramifications for our community when staffing and salary structure decisions are based entirely on finances and old traditions and claims, and not on what is best for the citizens and those who serve them in a 21st century environment.  Show me a town's budget, and I'll tell you what its priorities are.
For the past 4 years, I have focused on two major areas.  
Protecting and serving the citizens of Arnaudville with the most professionally trained and effective officers we can attract.  
Protecting and supporting my officers and employees by equipping them with safe, durable, and police-grade equipment and vehicles.
As any CEO or manager will do when coming into a new job or company, I evaluated the town's needs against the department's resources and discovered a clear correlation between the resources and the capability of our department.  Without the resources, there is no capacity for excellence.  Fewer resources (including human) equaled less competence in performance of our mission.  
Protocols, Policies and Procedures were reviewed: 
Comparing the number of officers we had against the number we needed 
The frequency and quality of the training 
The quality and effectiveness of the vehicles, equipment, and technology.  
Reviewed the Standard Operating Procedures (SOP) manual to see when it was last updated, and was it being implemented and enforced
How evidence was gathered, tagged and stored 
How calls were handled, recorded, categorized and archived
What filing system was used and how was it secured.  
I also looked at the  "culture" of the department – morale, attitudes, ability to work together or with others, ethics, the relationship with the community-al-large; was the law applied equally to all people?  What kind of reporting was done, and was it up to a prosecutorial standards?  In other words, would police reports hold up in court?  How was the cooperation and collaboration with neighboring law enforcement agencies – what kind of relationship did APD have with St. Landry Parish Sheriff's Office and St. Martin Sheriff's Office?  There were significant gaps and deficiencies in all of these areas.  
Some deficiencies were blatantly clear, and others were hidden from view, to be discovered and corrected later. In reviewing and taking corrective action in all of these areas, I also had to assess Arnaudville, our citizens, the demographics, the crime rate, the business climate, tourism and how all of that can determine how many officers are needed at any given time.  Quite simply, four was never going to be enough, six might be a minimum, and as situations and circumstances changed, more than six could be a future possibility.  What I did know with certainty:  Arnaudville was in need of a new, and higher set of standards, along with an increase in awareness by our town council and mayor.  And so I began the work, with the outward support and encouragement of the elected officials.
My work resulted in these improvements, among many others:
Standard Operating Procedures (SOP) updated
2 used official police responders were donated through my networking; 1 police responder SUV purchased
Uniform code adopted for all employees
Body armor/vests required on all officers
Body Cameras acquired and required for all officers
Technology and software utilized that connects reports to the state and the national database
Uniform and consistent firearms and weapons used by all officers
Attention to safe streets resulted in flood lighting in the cemetery and establishment of Neighborhood Watch program
We provide additional referrals and resources to citizens related to assault, drug addiction, domestic violence, child abuse and neglect, and elderly abuse, due to building stronger relationships with non-profits and health and human services programs
After 4 years, and many changes, the enforcement of the law has increased exponentially.  We are recognized by small and medium communities as having one of the best improved departments in the state.  We are respected, and I am often asked to share our experience with other communities!
While these improvements are tangible and impressive, there is still much to accomplish when addressing the human element of law enforcement.  If I am to fight for the safety and protection of our town, I cannot stop short by not addressing those men and women who wear the Arnaudville Police uniform and serve.  Within my responsibilities are their well-being that includes fair compensation.  
Salary and benefits are directly related to retention and recruitment efforts.  I am satisfied that officers are not leaving because of poor management, deficient equipment or bad morale.  Police officers and dispatchers are among the 47% of the population who are defined as the "working poor".  In Arnaudville, this huge percent is struggling to meet basic needs like food, housing, childcare, health care, and transportation.  Most end up choosing what to sacrifice, and many live one emergency away from a crisis.  No one should have to choose between food or healthcare, between childcare or housing.  Yet, some of our elderly do; single moms do; the clerk at the store does; the CNA at the nursing home does; the firefighter and the teacher does.  And guess what?  Police officers and dispatchers do. 
Surveying several police departments throughout our region, I found that those that have the smallest turnover rate are those that offer medical insurance.  Sure, the town boasts that we pay half of the premium for the employee who must go out and get the insurance.  Half is still restrictive, and unaffordable, and so many just simply do without, and leave the first chance they can for a department that will provide it.  If given the choice between health care and retirement, I predict that most would choose healthcare- that element that affects the here and now, their every day lives.  This single issue is bleeding our police department of good, dedicated officers and cannot be ignored indefinitely.
Bolstering my argument are a few facts.  No one on the town council has had the benefit of police training, is informed on best practices for police departments, or works inside a law enforcement agency.  While the council approves the Chief's budget, it CANNOT manage or dictate the management of that budget.  It is separate from the town's budget in that respect.  The council approves hiring based on the recommendation of the Chief, but cannot directly hire or fire an employee of the department. 
It may be a slender, yet useful opportunity for a candidate for mayor to declare that we did fine with only four on the road in the past (for 4 shifts). The statement may be an attempt to appear frugal or fiscally responsible, or to feed a political agenda, but for whatever reason, it is without full consideration or acknowledgement of the reality of everything I've just cited, or based on the vast improvements I've made to our town police department, much of which relied on increasing staff.  Unlike the past, today, none of our officers are sitting in the office; none are sleeping on the side of the road; none are idly sliding through a shift – and my expertise says we are still needing a full complement of officers to take care of 24 hours of calls, patrolling, field training, and relief, AND provide crucial backup in a much more  threatening society and culture. 
Authority over the elected Chief's operation is limited, and for good reason.  No council member is in the position to assess or determine the optimal structure, personnel requirements, scheduling, duties, or policies within the department.  The citizens of the town elect the Chief, and by so doing, must trust his capabilities related to management, planning, and assessing the needs of the community and the resources required to properly and adequately address those needs.  An increase in personnel, whether it be dispatchers, reserves or officers should be assumed by all to be a deliberate and well- considered action by the Chief, and should not be met with indirect threats during election-time posturing.  I say to every candidate - from alderman to mayor:  Don't play politics with people's safety, security or property. Don't look for financial shortcuts in an already tight operation, but, instead give us evidence that you are working to find ways to keep it staffed with people who aren't looking to leave at the first chance.
I was honored last night to be among some of our community's most patriotic heroes.  The Arnaudville VFW dinner pays tribute to service men and women, veterans, first responders and law enforcement.  The highlight of the night was watching Captain Clay Higgins, St. Landry Parish Sheriff's Public Information Officer, and Crime Stoppers spokesman, receive the Law Enforcement Person of the Year Award.  His celebrity, something he never sought, is overshadowed when you meet him, by his big heart and spirit, his passion and love of the job, and his authenticity and genuine desire to serve two principles:  his belief in the constitution, and his belief in the power of redemption for the criminal, who he sees as an equal in the eyes of God.  He spoke to the crowd with humility, landing his word, characteristically dry, with a steady cadence on a room full of hushed listeners.
As I sat and listened as Captain Higgins delivered a moving and inspiring speech, I could not help but reflect on what his message meant to a small community like Arnaudville.  I've sat through many speeches, but this message was clearly meant to spur people to action. He cited that America has fallen, and it is up to its citizens to "stand America back up".  He gave an abbreviation of this talk a few nights before at the Arnaudville Neighborhood Watch meeting, speaking to a crowd of 40 citizens, the largest ever.
In my judgment, it's not enough to love one's country; it's not sufficient to give awards or applaud those who completed a task or performed a duty.  While all the recognition is good and validates the efforts and intentions of the recipient, enough will only be enough when every citizen, young and old, regardless of religion, race or gender turns their expressed patriotism into active citizenship.
In our last election, a majority of registered voters did not vote.  Why?  In the latest research, Louisiana still has not reached the national percentage of high school graduation rates; an astounding number of our middle school students are still not achieving math and reading proficiency levels that will foster academic success.  Almost half of our adults can be considered functionally illiterate. Our state is at the top in the nation for domestic violence, infant mortality rate, and childhood poverty. Poverty is creeping up on the once secure middle class, with higher unemployment rates, smaller trained workforce, and an industry of predatory lenders that preys on the financially strapped working poor.  My wife, the director of the St. Landry-Evangeline United Way managed the recent FoodNet Food Drive for St. Landry Parish, and food donations were down by half – 4 tons collected as opposed to 8 tons the previous year – to be distributed to nine local pantries.  While the need is greater, the contributions were lower. 
How does this litany of ailments relate to patriotism?  I'll tell you. The strength of a country lies in an active, engaged citizenry – a citizenry that relies on each other to find solutions, to look out for one another, to offer more than sympathy or pity, but who reads to or tutors struggling students, helps train people for employable skills, who cooks a little extra for a neighbor in need, who studies the candidates and the issues to make informed decisions, who takes their freedoms and right to vote seriously, to join the neighborhood watch to help the police and see that crime goes down or doesn't get a chance to take root.  
While we wave our flags and proudly proclaim our patriotism, the country thirsts for the quenching rain of action and activism.  Find a need, see if you have the capacity to fill it, the talent to share, the voice to be heard.  When we couple our love of country with our willingness to engage, America will be "stood back up".
When a law enforcement officer receives praise from a citizen, it is not only flattering, but it serves to bolster confidence, validate their career choice, and create a desire to even do better.  One of Arnaudville's citizens, Mr. Carl Lagrange's comments on social media did all of the above.  I proudly and humbly include it in my blog.
Mr. Lagrange writes:
"I can't say enough good about this man, our chief Eddy J. LeCompte. And, frankly, I could care less if some disagree. I respect his philosophy of law enforcement. Simply put, he has the wisdom few subscribe to. An officer's job is not to oppress the people by inflicting upon them the letter of the law regarding minor infractions, but to maintain the peace, rather, by use of police discretion. Hence, the phrase "keeping the peace by use of relation with the people he and his officers swore an oath to uphold rather than being tyrannical with the power bestowed them." The job of an officer is to see to it that the law abiding be reminded of the rules we all in our imperfect humanity are for our good and that officers being people too understand that and have no compunction to make our lives harder than they already are. Therefore, not every encounter is necessarily one his officers are adamant be a punishment. More often, only a civil and respectful discourse informing we civilians to be more conscious of our societal contract and after be on our way. The letter of the law is reserved for those individuals who have no respect regarding that contract and so are deserving the legal system hold them accountable. Such is the wisdom regarding his philosophy in that it promotes good will and a positive relationship between those who serve our interests and the people. Well done, chief. Society could use more public servants with this mindset."
Speaking as your humble servant, I can take little credit for Mr. Lagrange's claims – about wisdom – it comes with age!  But, aside from the age, it comes from listening and a willingness to admit fault, change direction, and learn the lessons that failures bring. 
What Mr. Lagrange refers to as my "philosophy of law enforcement" caused me to reflect.  I have never defined a "philosophy" per se.  I just operate out of instinct and gut, under the inducement of the "law".  Taking an oath is one thing, but applying that oath to common sense, respect for the citizen, empathy in some cases, and confidence in the training and experience makes for a good cop.  There is a theory that cops tend to be "alpha males", choosing a career that allows them to demonstrate authority, aggression, and sometimes brutality – all traits that are enhanced by, and sometimes protected by a badge.  But, in my experience, the good ones effectively balance authority with humility, aggression with heart, and harshness with a desire to help.  At least, this describes the majority of the officers I have known.  This kind of value system is essential for a Chief or Sheriff who leads a department because he or she is responsible for creating a culture within the system that ultimately is felt and is visible on the street and through the eyes of the public.
Regarding the references made to "the letter of the law", we should know the letter of the law, use that knowledge as a baseline for discernment when faced with a "law-breaker".  We are human, fallible and subject to mistakes.  Our officers act within the parameters and structure of the laws they are obligated to defend and uphold.  Using a stop to correct behavior is also an opportunity to educate, to engage the citizen, and to create a positive image – not only for themselves, but for the department and for the town of Arnaudville.
Mr. Lagrange, I appreciate your words, but more than that, I appreciate that your post lent itself to further reflection. And just as your post served to commend me, and the work I'm doing, I trust that you will be just as willing to point out when we fail to achieve your expectations.
As I have taken office, I have learned much about our municipality's form of government, which is governed by the  
Lawrason Act.
  The  
Lawrason Act
was adopted in 1898 to provide uniform guidelines to towns and villages for governing.  Almost 250 towns and municipalities follow the  
Lawrason Act
, Arnaudville being among them.
On several occasions, we ask our mayor and alderman to enact, or provide for many things, some of which require referring to the  
Lawrason Act.
  So, when the citizens ask, suggest, or demand that our town government act, those citizens are frustrated, sometime angry when they perceive that nothing is done.  I have also been frustrated at times.
I am a firm believer that knowledge is power.  I also believe that citizens have the obligation to engage their elected officials in a respectful, yet assertive way to get answers, reasons or results.  One way to understand how your town governs is to refer to the  
Lawrason Act.
  I have included the link to what I believe is a great format that spells out the  
Lawrason Act
, and how we utilize it in running our town.  It is in a Q&A format, which I think makes it easier to read.  I invite my fellow citizens to review it.
Crime prevention means being aware of your environment and remaining alert to situations that could make you vulnerable to crime. We cannot list specific measures that will protect you from every threatening situation, which may arise. Instead, we hope to teach you how to think "Crime Prevention" in day-to-day living. The suggestions presented should not be thought of as a list of crime prevention measures, but as examples of common sense behavior that will help you to make life safer and more secure.




PROTECTING YOURSELF  

WHILE WALKING:
If at all possible, never walk alone.
If you cannot find someone to walk with you, contact Public Safety at 410-777-1818 for an escort.
If you absolutely have to walk alone, walk on well-lighted, well-traveled walkways and plan your route ahead of time. Avoid places where attackers might hide (spaces between parked cars, overgrown shrubs, and dark passageways) and areas where you might get cornered. Remember that it is best to walk facing traffic.
If anyone follows you, look confident and let him or her know you are aware of their presence. Don't be polite or engage in conversation.
If they continue to follow you, cross the street and/or change directions.
If this doesn't work, walk toward other people or occupied buildings and stay away from places where you might get cornered.
If someone in a car follows you and is persistent or becomes obscene, write down the license number and report it to the Department of Public Safety as soon as possible.
WHILE DRIVING:
If someone follows you and is persistent or becomes obscene, write down the license number and report it to the appropriate police agency or Department of Public Safety as soon as possible.
If you are trapped in your car, honk your horn in quick short bursts. This will attract people's attention.
Make sure that all of the car doors are locked whenever you leave your vehicle.
When returning to your car, have your keys ready so you can enter your car quickly and be aware of your surroundings. If you have to look into a purse or a pocket to find them, it takes extra time and you lose sight of what is around you, which could allow someone to sneak up on you.
As you approach your car, look underneath to make sure no one is hiding there. Before you enter your car look to see if all of the doors are locked or if there are any uninvited passengers in the back seat or on the floor. If your door locks are not the way you left them or you see someone inside, leave the area as quickly as possible and notify the Department of Public Safety.
Don't pick up hitchhikers.
WORKING LATE:
Let someone know where you will be working an when you anticipate returning home. Make sure your family and friends know the work number where you can be reached. Call when you reach your workstation and once again just before leaving to go home.
A portable cellular phone is highly recommended. They are effective in emergency situations to give instant access to emergency services.
Carry a portable, battery-powered high decibel alarm device or a loud whistle.
Carry a small pocket flashlight in your purse or on a key ring, and try to park in well lighted areas and walk along lit walkways.
Carry your keys and access cards in your hand when you are approaching the appropriate doors, keeping them readily available. Make sure locked doors close and lock behind you.
Keep your workstation or office locked after hours.
When returning to your vehicle, watch for suspicious persons nearby and have your keys in your hand. Check the interior of your vehicle before getting in. 
return to top



PROTECTING YOUR PROPERTY  

PREVENTING THEFTS FROM VEHICLES:
Install a vehicle alarm or mechanical lock for the steering wheel or ignition.
Always lock the doors and leave the windows rolled up.
Always activate any auto alarms or anti-theft devices.
Keep books, tape players, and other valuables out of sight. Expensive items in full view invite theft even if the vehicle is locked. Don't advertise the types of equipment you have in your vehicle.
Place valuable items in your trunk not the front or back seats.
Know the license number, year, make and model of your vehicle.
Do not leave money, checkbooks, or credit cards in the vehicle at any time.
PREVENTING BICYCLE THEFT
Keep bicycles locked any time they are unattended with a good "U" type lock. Second choice would be a good casehardened padlock and cable. Be sure the "U" lock or cable goes through the front wheel, rear wheel and the frame, and secure it to a fixed object.
Check the lock by pulling on it to make sure it is secure.
Use an engraver to place an identifying mark on unpainted major bicycle components.
Be sure to retain all evidence of purchase, including the serial number.
Be able to identify the bicycle.. not only by its color, but also by its features.
Have one or more close up color photographs of the bicycle on hand.
Register the bicycle in the Police registration program.
Never loan your bicycle or other property to strangers.
Try to avoid parking a bicycle in a deserted or poorly lit area.
PREVENTING THEFTS FROM OFFICES
Don't become complacent. Be aware! Be attentive.
Don't showcase your office.
Close and lock your office when it is not occupied. It only takes seconds for a thief to notice an unoccupied office, walk in and put something in a book bag.
Lock your desk, file cabinet, locker, etc.
Don't leave your purse in that last or bottom drawer of your desk (thieves know it's there). 


REPORTING A CRIME OR EMERGENCY   
An important responsibility of a victim or witness of a crime or other emergency is timely reporting to appropriate authorities. The local police station is on duty 24 hours a day. When reporting an incident, attempt to provide as much detail as possible about the situation, including at least the following, but reports can be called in anonymously, as well.
Your name;
Your location and telephone number where you can be reached;
The nature of the problem you are reporting;
Additional information as requested by the communications officer.



IF YOU WITNESS A CRIME  

If you see or suspect a crime is being committed, pay particular attention to the features of the offender(s) and any vehicles involved. Try to be prepared to provide at least the following about the offenders:When reporting a crime by telephone, remain on the phone until the dispatcher is fully briefed with all the information necessary to dispatch the appropriate response personnel to the scene.
Age, race, height, and weight;
Hair color and style, beard and mustache;
Notable characteristics (acne, scars, glasses mental state, etc.)
Clothing description;
Location where last seen;
Last known direction of travel;
Vehicle description and distinctive markings.
Witnesses who wish to remain anonymous may do so. It is more important that a response be dispatched as quickly as possible.  
IF YOU ARE VICTIMIZED  
If you become the victim of a crime,report the offense immediately. Timely reporting of a crime improves the possibility of suspect apprehension and recovery of stolen property. Officers investigate each reported crime to the best of their ability. If you are victimized, it is very important that you provide the investigating officer with as much information about the incident as possible. 
SUMMARY  We cannot do this job alone. As a member of this community, you can help by calling us when you have a security-related problem or if you witness an incident occurring. Get to know us better and help form that teamwork that will help make Arnaudville a more secure and safe environment.
8/8/14
I attended the Louisiana Municipal Association Conference in Baton Rouge last week, and found the experience enlightening.  I had earlier attended the Louisiana Association of Chiefs of Police. As with any profession, one can find a professional organization made up of peers, experts, novices, and retirees, and attending those conferences and gatherings will enhance your knowledge.  Admitting that I don't know everything about what I do, nor have experience in every conceivable scenario, I feel it is my duty and obligation to take every opportunity to glean from others, gain from their experience, and yes, be open to new concepts, new methods and ideas.  Attending such conferences can also serve as a valuable networking tool, and occasionally result in dividends and benefits that would not normally come knocking on your door.
At both gatherings, I was able to network with other Chiefs, Mayors, and council members, as well as state officials and experts.  I visited dozens of exhibits, talked to many vendors, and brought home a stack of material.  But, more than the casual meetings, I found that when I spoke about our wonderful community, the needs of our people, and the essential upgrades to our police department, I was met with interested listeners, and several people willing to assist me in attaining some of those upgrades.  My wife has taught me that a donation you don't receive is the one you didn't ask for; so, I am not too proud to ask!
Guess you could say that a common theme at both conferences was the emphasis on working together, not just getting along for the sake of peace, but to actually work together to tackle issues, and that means setting aside personal biases and prejudices, listening with respect to the voices of others, and presenting to the community that elected you a body of elected officials that really are able to work together for the common good.
As in any venture you set out for, any goal you set, or any trial you may be going through, we were not met to do it alone.  We really are in the same boat.  Whether it is a mayor, an alderman or a police chief, the key to moving the boat forward is that all rows in unison and in the same direction, understanding that each must maintain a level of independence.  But, for the sake of our community, the families we serve and the children under our care, we must have as our number one priority – working together, asking for help when we need it, and respecting everyone in the boat. 
I'm coming up two months in this position.  There have been several "surprises", but nothing that can't be handled or resolved.  But, on the other hand, I think others have been surprised at the progress we are seeing so soon.
Procedures and protocols have been established that will result in better record keeping, and better service to the community.  Senior Services will provide extra monitoring for our senior citizens living alone or with medical conditions.  Neighborhood assessments are conducted by our officers while on patrol to note any irregularities such as signs down, trash or debris, pot holes, malfunctioning street or traffic lights, etc.  Several other initiatives have begun.
I am pleased that I was able to suggest to the Town Council that we convert the unused tennis courts next to the police station into basketball courts.  I have had cameras mounted at the neighboring fire station, and the courts will be up and ready in the next few days for the children of Arnaudville.  The kids passing in front of my house are very excited to begin playing on a big court.
While some may argue that it is not the role of a Police Chief to cater to the needs of the old and the young, I see it differently.  "To Serve and Protect" means more than patrolling, writing tickets, and making arrests.  Security is sometimes just a feeling you have when you trust someone to check up on you.  Safety means that there is a safe environment for people to live in and children to play in.  When children are provided a safe, enjoyable place to play, they are less likely to be in trouble because of boredom or bad environments.
It is our duty to facilitate a safe and secure town; a town where the citizens trust their police, and where police interact and become part of the community, a friend to the elderly and to the young.
I stand by my philosophy and will continue in this direction.

/